Hollywood AC Services - AC Repair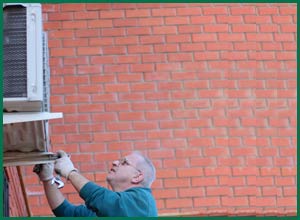 When summer season arrives, your instinctive reaction is to reach for the remote, switch the AC on and soak in its cool aura. In Hollywood, FL area, especially, air conditioners have beyond doubt become the most common electrical appliances used and are seen just about everywhere; in homes, offices, multiplexes, malls, retail stores etc. Can you imagine your life without an air conditioner? We know you can't! Despite being more of an essential than a luxury, it's quite disconcerting to notice how many people don't give their air conditioners the extra attention they deserve. Neglecting proper maintenance, repair and servicing may cause your air conditioner to go down at unexpected times, throwing a wrench in your daily routine. If you don't want to find yourself struggling to make a defunct AC work or waiting for hours to get it fixed, you need to make sure you've got the number of Hollywood AC Services for all services related to your air conditioner. Dial 954-363-0112 to avail the services from an expert!
HOW TO KEEP YOUR AIR CONDITIONER RUNNING, ALWAYS?
Learning to read the signs:
In some cases, your AC may stop working without warning, but in a vast majority of situations, there are subtle signs that hint a breakdown in advance. Some of the signs may include a drop in cooling, poor air flow, excessive noise during operation, thermostat problems, bad odors, short cycling of the unit, a jump in electricity bills etc.
What you must do:
At the first sign of an oncoming repair, make sure you call in an AC service expert right away instead of waiting for the issue to escalate.
Hire the right repair expert:
As mentioned, even if you're cautious or pay extra attention to your air conditioner, there can be a few unforeseen circumstances that may disrupt the operation of the AC. When that happens, wasting time troubleshooting the issue on your own or attempting DIY fixes from the internet are no-go, as a repair gone wrong may do more harm than good.
What you must do:
Call in Hollywood AC Services! Even if your AC breaks down in the middle of the night, we'll reach you in less than 20 minutes and do everything it takes to get it up and running again.
A viable maintenance plan:
Maintenance is a must-do course of action you need to adopt if you want to keep your air conditioner in its prime state, and can weed out any issues early on to prevent sudden breakdowns or trouble. The costs you spend towards maintenance are barely half of what you would spend on repairs, making this a financially-wise decision.
What you must do:
If you want to make sure you don't run into unexpected repairs at unexpected times, it's wise to invest in a maintenance plan from a reputed AC service company
HOW OUR REPAIR SERVICE COMPARE TO OTHERS?
It's a common fact that there's absolutely no dearth of AC service companies in Hollywood, FL area, so in case your AC breaks down, getting it fixed should be a cake walk, right? Wrong! Despite the mainstream assumption, repair services are not easy to come by. Why, you ask? For one; repair requests are time critical, and need to be addressed right away, a feat that most of the companies who're accustomed to providing 24-hour or 48-hour windows cannot accomplish. There's also the challenge associated with the time at which the event occurs in the first place! If you find yourself facing a defunct AC in the middle of the night, you may have to wait it out the entire night or shell out huge money over 24-hour repair services.
With Hollywood AC Services, everything is different! We provide prompt, timely and reliable AC repair services on a 24/7 basis at no added charges.
So, when your AC throws up trouble, know that you can trust us to fix it up. Call 954-363-0112 for help!